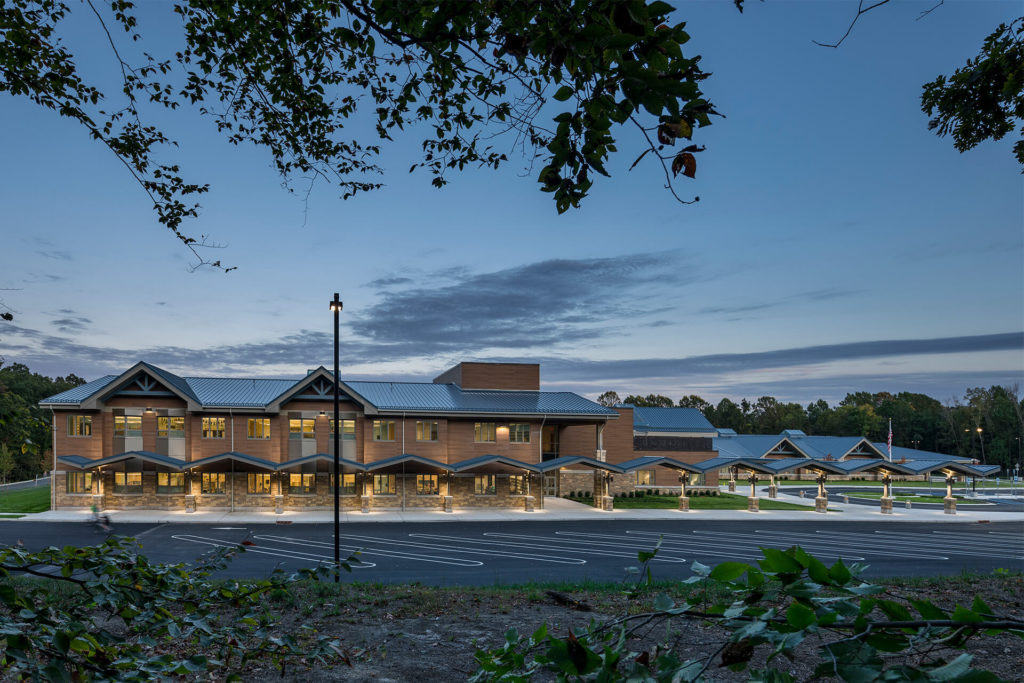 North Hanover Endeavour School School
The North Hanover Endeavour Elementary School, nestled deep in the heartland of New Jersey, serves roughly 1,200 North Hanover Township students, including the students of military personnel stationed at the nearby Air Force Base.
After a Department of Defense inspection in 2011 suggested the three district schools – Atlantis, Columbia, and Discovery – be replaced entirely, Netta broke ground on the project with clear instruction from the board of education; house upwards of 850 students from military families – in addition to non-military family students – replace all three schools, and achieve greater efficiency and effectiveness in administration, operation, and education.
The site is surrounded by wetland, with unconventional soil conditions that required a new foundation system consisting of wood pile and concrete grade beams. It incorporated two Living Plant Walls in the Main Atrium Lobby and Second Floor Discovery Center and a roof mounted solar panels and an emergency generator for the entire building.
Netta Architects also solved many challenges that arose from the atypical soil and specific requirements of the client. One such requirement was the development of an open space environment conducive to learning. Netta designed and constructed numerous breakout learning spaces throughout the school, including tiered seating, open air courtyards, and a rooftop terrace. In understanding the needs of military families, Netta designed a welcome center – separate from the main office – for families to meet with school administrators and register their children throughout the school year. While taking safety and security into consideration, Netta designed door access control throughout the school, including all interior classroom doors, which were equipped with remote emergency lockdown mechanisms. Even in discussions on what to name the new school, Netta and the client visited the California Science Center and incorporated a prominent interior display to showcase actual artifacts of the Space Shuttle Endeavour's missions. Finally, to provide a home for community events outside the veil of education, Netta deliberately designed the gymnasium (with stage) and cafeteria/kitchen with separate entrance and parking lot to provide access after hours while closing off the rest of the school.